сценарий постановки "волшебник изумрудного города"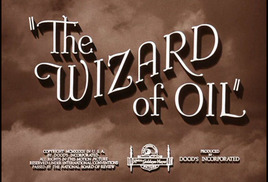 THE WIZARD OF OZ.
SCRIPT
CHARACTERS: Dorothy, Lion, Scarecrow, Toto, Tin Man, The Wizard of Oz, Author, Guards, Trees
Video Play
A: Dorothy and Toto were walking along the road.
Toto: I have four legs
With which I walk
I have a tongue
With which I talk
And with it too,
I eat my food and tell
If it is bad or good (грызёт собачью кость)
A: On her way to the Emerald City Dorothy made friends with
The Scarecrow who wanted to get some brains
(Enter the Scarecrow singing and dancing The song "No, no, yes,yes")
S: I'm poor Scarecrow. I want to get some brains
A: with the Tin Man who wanted to get a loving heart
(enter singing) The song "The hammer song" ( 1 part)
Tin: I'm a Tin Man. I want to get a loving heart.
A: with the Lion who needed courage
( enter the lion roaring and then get frightened and recite a poem
My paws are big and strong
My tail is very long,
My name is fine, it's Nick,
And I'm very big
But… I'm not a big bad lion
I'm not a big bad lion,
As I used to be
Please, don't call me
Big bad lion,
Please, don't call me
Big bad lion
I am not like that.
A: All together they went to the Emerald City to ask the Wizard of Oz to help them.The yellow brick road ran on and on. Along the road there stood trees with huge trunks.
D: That must be the Emerald City (happily)
A: At last they came to a high wall with a gate. Dorothy knocked at the door and the gate slowly opened. Before them stood a guard, dressed from head to toe in green.( recite a poem)
I say "Good morning"
In the morning
I say " Good evening"
In the evening
I say "Good afternoon"
In the afternoon
I say "Good night"
At night.
Stop! Look! Listen!
Before you cross the street
Use your eyes, use your ears
And then use your feet.
G: Why have you come to the Emerald City?
D: to see the Wizard
G: Few have ever seen the Wizard face to face. He probably won't want to see you. But I'll take you to his place anyway. First you must put on glasses..Without glasses the brightness of the city can blind you. I'll lock a pair of glasses on each of you. Only I have the Key to unlock them
A: The Guard put green glasses on each of them even Toto and led to the City.
Toto: What a beautiful sight! Wow-wow
G: The Great Wizard of Oz will see you in his Throne Room
S: What a large round room with a very high ceiling.
Tin: How big the Throne is! It's made of marble!
L: I'm scared but don't be afraid. Everything will be all right.
Toto: wow-wow
A: A voice spoke from high above them
The W: I am Oz, the Great and Terrible. Who are you? What do you want of me?
D: I'm Dorothy, the small and weak. Please send me back to Kansas.
S: I'm only a Scarecrow, stuffed with straw. I would like you to give me some brains so I can think .
Tin: I'm a woodchopper made of tin. I would like you to give me a heart so I can love others
L: I'm a cowardly lion. If you give me some courage, I could be King of Beasts.
W: Here is my decision. I'll make your wishes real but tomorrow or the next day
Tin: You 've had enough time already!
Toto: wow-wow
D: Keep your promises at once! ( stamping)
(Toto began dragging someone from behind the throne)
Tin: Who are you ( angrily)?
W: I'm Oz. The G-g-great and T-t-terrible. Please, please don't hurt me!
L: Aren't you a wizard?
W: I'm sorry my dear. I'm just an ordinary person.
S: You're more than that! You 're a big fake
D: But I don't understand. You should be ashamed of yourself!
W: Oh, I am! I truly am! But you see, it was the only thing I could do.
A: The wizard began his story
W: I grew up in Kansas. I ran away with a circus. I flew balloons. People loved my show. But one day I couldn't come down and was taken away. I landed in this strange place. The people saw me come out of the clouds and thought I must be a great wizard.
D: I think you are a very bad man
W: No, I'm a very bad wizard
Sc: You can't give me brains, then?
W: You don't need them. You're learning something every day and this is how you get your wisdom
Sc: But I'm so unhappy without brains
W: Well, I'm not much good at this, but…
A: The wizard took a lot of pins and needles.He mixed them with the straw in his head
W: Now you 're the smartest man around. I've given you lots and lots of sharp new brains .
Tin: And how about my heart?
W: I can give you a heart if you want it so badly
A: The wizard took a heart and placed it into Tin's chest.
Lion: What about my courage?
W: You have a lot of courage already. You just need to believe in yourself, that's all. But if you must have a…
A: The wizard took a large green bottle out of his desk with a label "courage" . He poured some of it into a cup and gave it to the lion. He drank it quickly.
W: How do you feel now?
Lion: Like the King of Beasts!
D: And now it's my turn.
W: I've found the way to get you to Kansas. We can make a ballon to carry us there. It's our chance.
D: Yes, indeed
Все герои поют песню " We shall overcome"